Boosty donation Platform for subscribers
---
You can choose to subscribe to either of these two blogs, or split your subscription to both if you like. If in doubt, subscribe to Roman's Boosty, as it will be the main user service and download resource eventually, and we have big plans to make more instruments and full cockpit panels.
My Boosty channel is dedicated to the RSC (RealSimControl) project as a whole, focusing on the hardware solutions, firmware, parameter database, configurator/converter for custom planes, and tech information / tech support.
- Roman, as SimVimX plugin and SimVimPanel program developer, has his own Boosty with news and downloads, that is dedicated to SimVimX Plugin development, it's functionality, and SimVimPanel program along with the development of more and more new instruments and full instrument panels.
---
NOTE: -- Please use monthly basis (or, 3-month subscription at most).
About Boosty / how to use
The BOOSTY Platform has been established in 2019 as Patreon alternative, is an international platform, but it is more suitable for Eastern creators (Patreon is not providing much suitable payouts options for me as Boosty does).
It is located in Netherlands and it is a part of My.com B.V. group along with the well-known Donation Alerts. Read more here.
---
Sign-In / Login options
You can use these options to login: Gmail, Facebook, Youtube, Twitch, ... or, if you want - the mobile number (it's an option only, not required!):
After your first sign-in and confirmation you can see your account menu in the top-right corner. In the "Account Settings" you can check your information and if needed change it - the name, email address to which you want to receive notifications and add phone number if you want to login with a phone.
But NOTE, that you should always use only that login method and address that you have used to sign-in!
You can change the email that you have used for sign-in if you want to receive notifications to another email address. But remember that if you changed it you still should use the same e-mail address you first used to sign-in, this is important (or Facebook / Youtube if you have used them) !
Payment options
Same as on Patreon, PayPal or debit/credit card can be used for a monthly subscription. The multi-currency selection is not implemented yet in the interface, now it simply converts my currency (rubles) to your currency on payment.
-- Please use 1 month basis (at least do not select 6-12 months subscription).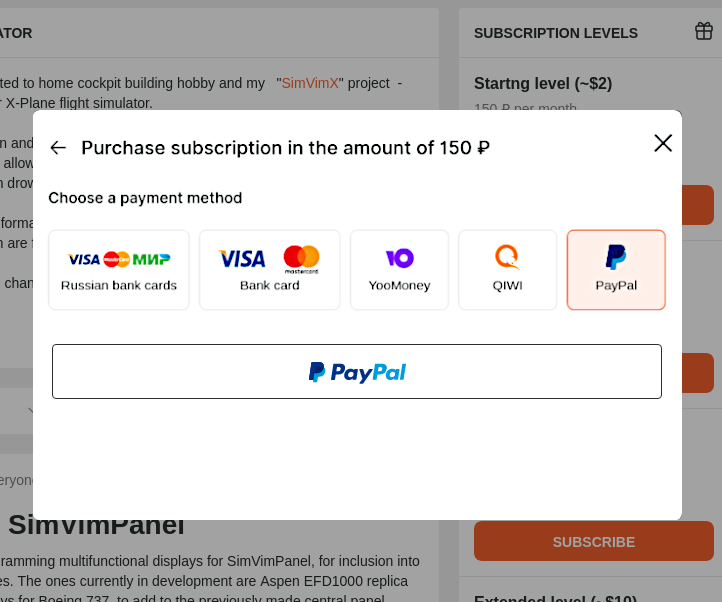 Also, you can watch this short video I made for an explanation how to register via email and use PayPal on Boosty.
---
Additional notes
If a one-time payment option was not added to the blog or closed post, but you want to pay once, you can subscribe for one month and unsubscribe before the full month expires (no need to unsubscribe immediately, the next payment will be taken only when selected payment period ends).
----
The multi-currency selection for payment will be added by the platform team later, as they are promising. I'm trying to show below how it could be implemented, just as suggestion. Also, for those who will use a card to pay, I have added the screenshot with translated captions (as there are still Cyrillic only):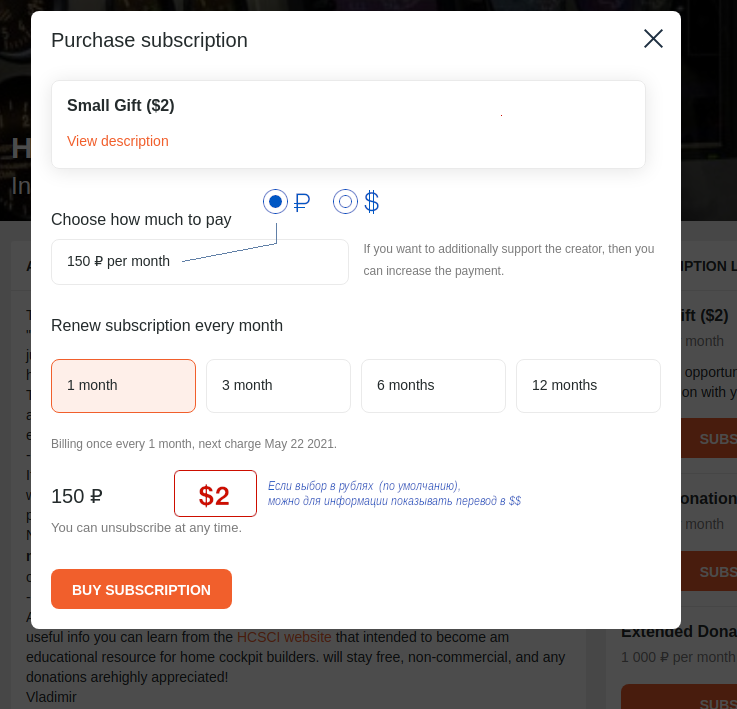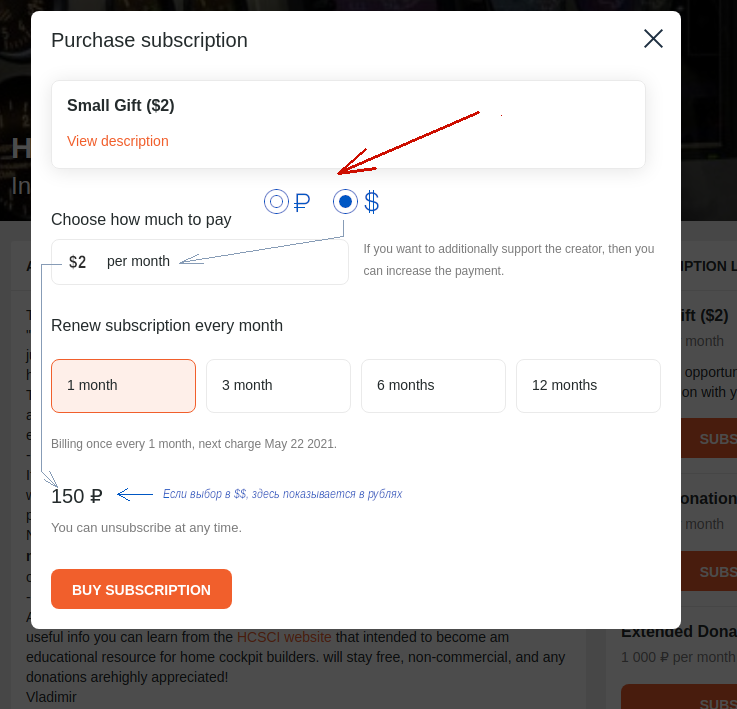 Vlad