BOOSTY Platform for subscribers
---
RSC/SimVimX Boosty channel (blog)
- My SimVimX Boosty is dedicated to SimVimX Plugin development, it's functionality, and SimVimPanel program along with the development of more and more new instruments and full instrument panels.
NOTE: -- Please use 1 month basis ( or 3-month subscription at most )..
---
About Boosty / how to use
The BOOSTY Platform has been established in 2019 as Patreon alternative, is an international platform, but more oriented to eastern creators .
It has Netherlands jurisdiction and it is a part of My.com B.V. group along with the well-known Donation Alerts. Read more here.
---
Sign-In / Login options
You can use these options to login: Gmail, Facebook, Youtube, Twitch, ... or, if you want - the mobile number (it's an option only, not required!):
After your first sign-in and confirmation you can see your account menu in the top-right corner. In the "Account Settings" you can check your information and if needed change it - the name, email address to which you want to receive notifications and add phone number if you want to login with a phone.
But NOTE, that you should always use only that login method and address that you have used to sign-in!
You can change the email that you have used for sign-in if you want to receive notifications to another email address. But remember that if you changed it you still should use the same e-mail address you first used to sign-in, this is important (or Facebook / Youtube if you have used them) !
Payment options
Same as on Patreon, PayPal or debit/credit card can be used for a monthly subscription. The multi-currency selection is not implemented yet in the interface, now it simply converts my currency (rubles) to your currency on payment.
NOTE: -- Please use 1 month basis (3-month subscription at most).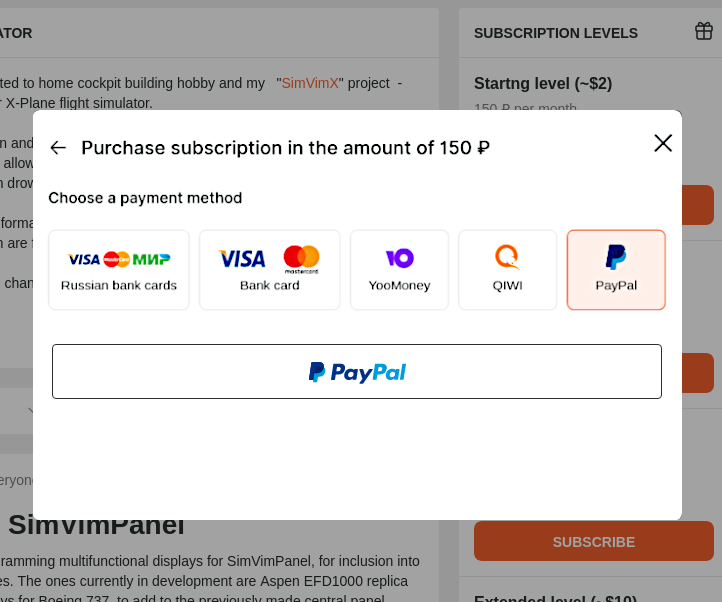 Also, you can watch this short video I made for an explanation how to register via email and use PayPal on Boosty.
---
Additional notes
The multi-currency selection for payment will added by the platform team later, as they are promising. I'm trying to show below how it could be implemented, just as suggestion. Also, for those who will use a card to pay, the screenshot with translated captions is added (as there are still Cyrillic only):