Boeing 737 NG - Instrument Panel
| Full Panel ->
---
The full set of the B737 panel modules is currently in development. The beta versions will be available for subscribers (Boosty or Patreon).
Here is the instrument-only version is for those who build a complete panel with cover plates made of plastic, metal, plywood or cardboard covering the monitor screens, containing only cut-outs for instruments and indicators. The full-panel (textured) version will be available, please read here.
There are (will be soon) several SimVimPanel B737 modules available for using with 4 or 3 LCD screens.
1. The left main panel module for 23" LCD, Central module for the 14-16" LCD, right maim panel module for 23" LCD and lower module (MFD + 2x CDU) for 21.5" LCD:
2. The same as configuration above, but if it's is more suitable for you, you can use the left PFD+Chrono module for 15-17" LCD and central module for 23". In both cases you can use the right side without the right chronometer for 18.5"LCD.
3. If you use chronometers as a separate instruments you made (or bought) use two modules for 18.5 LCD for the left and right PFD/ND and cental module for 15" LCD:
Partial panel design (pilot only side)
For this variant the same modules are used for the main panel, the right side is not used. The only difference - for the lower part is 15.6" LCD is used displaying the left FMS and MFD. But, you can use also MFD+2 CDUs if needed).
The work-in-progress, beta and full versions will be available to subscribers on Patreon / Boosty or on request.
MFD, FMS
A single monitor ( 18.5" LCD) is used for MFD and 2 CDUs or a single monitor (15.6" LCD) for MFD and left CDU: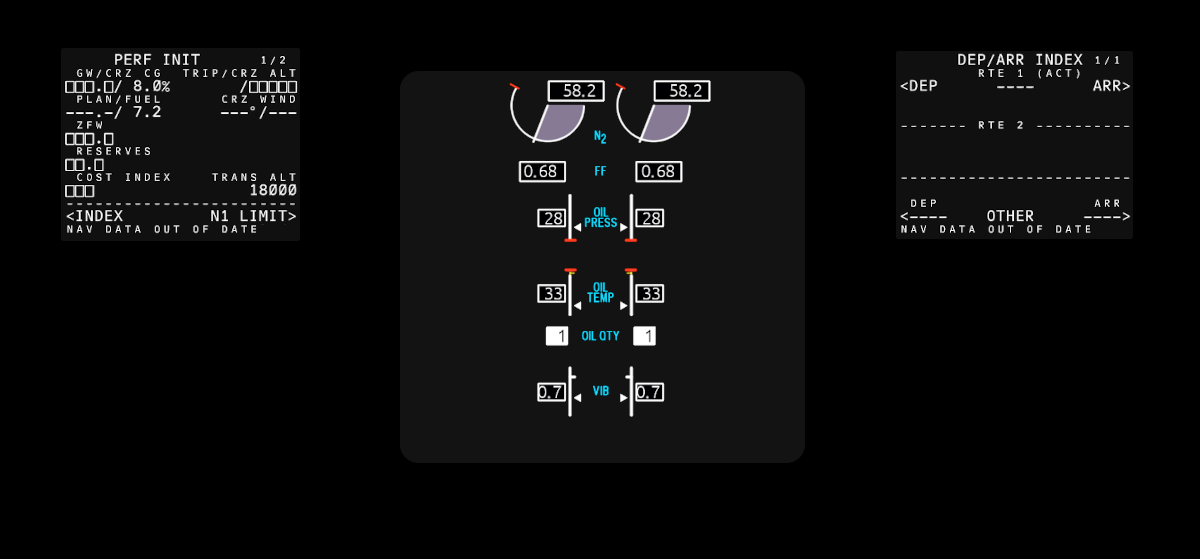 :