Home Cockpits, Simulators and commerce
To buy or make?
Gone are the days when an ordinary home cockpit builder had only the option to make most of his cockpit parts himself by hands. Of course, a true hobbyist will always prefer to build everything himself, at least he will try.
Many people still can and want to make things by hand, and in my opinion, self-made panels and instruments can look no worse (even better) than produced ones, and, of course, it causes more respect than when you are looking at a "real" cockpit assembled from some kit purchased for thousands of dollars.
Nowadays there are many sellers of different cockpit parts and instruments, some of them were (or are) home cockpit builders, others just saw another commercial "niche" and a chance to make money. I can understand those who want to earn extra money, if this is possible, why not.
Some guys just need to be a little more modest in their products cost estimation and especially not try to make money on somebody's work and use the lack of information people have. Think, if you buy some "very unique", "very real"- looking module for $300-1000, maybe it could save you a little time, gives you a bit more "visual reality", but is it really worth that?
What I mean? Often, someone tries to present their product as something extraordinary, and without it you certainly can not build your cockpit :) . But if you learn more about options, how it works, look around, then suddenly, you can find something similar, but much cheaper or even free.
---
Do not be fooled by fancy and attractive terminology:
1) "Full-scale replica", "Original ..(controls, color, original sensory feel)"
All these words should assure you that it's a real device, in visual appearance and materials - "realistic" surface texture, exact colors, shape and color of screws, maybe smell... (Does this include "weathering", scratches?)
First, why anyone would make it "non-full-scale"? "Replica" means "an exact copy," but the actual product may not always be as exact. Anyway, you decide it for yourself - for what level of "exactness" you are ready to pay extra money - for exact color, shape, size, controls or functionality of this device (but do not confuse it with the functionality of the program and simulator that it uses!).
"Cheaper than any alterantive"
If those "alternatives" are extremely expensive and priced non-adequately, it absolutely doesn't mean that this "cheaper" device has a really reasonable price and is worth your money. Try to get more information about it's internal structure and how it works (as an independed device with its own software or as a passive input/output device that uses external programs or simulator functionality).
---
"Includes a custom-made PCB", has a "custom designed printed circuit board" or "PCB board"
What is this? In short - it is a small piece of composite plastic to which the electronic components are attached without wires. You can learn more about this technique on the Internet, for example on Sparkfun website.

Price: Today everyone (and you too!) can order any PCB online, in any quantity. Even for the most "complex" PCB that could be used in such modules, this price can be $0.2 if a hundred pieces are ordered, or $1-5 if only one PCB is ordered.

Ah, and any such PCB is "custom-made" - this doesn't mean it's special in any way. Actually, for a simple device, which only includes several buttons/encoders this PCB is a joke - you can have it or not, it can just as easily be a few inches of wires connecting the buttons to the socket.
---
"High resolution LCD/TFT display" (used in this module)
"High-resolution" just means that this LCD screen has it's usual, typical resolution for its size, nothing more. There can be some difference for small screens, but you can barely see any difference in picture between 120ppi and 96ppi screen (ppi = pixels per inch).

How about this: the real GNS530 has display with horizontal resolution of 320 pixels (or 79 ppi of resolution). But typical resolution for LCD screen of this size that you can find on market now is usually 480 ... 800 pixels!. In fact, it can be said that a high-resolution screen actually makes such device less realistic.
---
"High quality switches (encoders, buttons, LEDs, screws, etc.) are used in our products"
What is that "high quality" exactly? Look at AliExpress, Ebay or other marketpaces where you can buy the encoders for $0.5 - 1 for piece and all they are "high quality", and I can confirm that, because I have a lot of them (these small encoders can be used in thin cover panels). I'm not even talking about LEDs, switches, or buttons - they're just the cheapest mass-produced components.

Note: expensive "high quality" encoder does not mean that it works better! This can be even the opposite. Any cheapest encoder of any type works perfectly with RealSimControl!
---
"Realistic", "no more need to use mouse", etc...
Realistic - it's a very stretchable notion. If your simulator (or custom program) provides all functionality for some instrument as in real life (G1000, for example), then the only thing that can make feel it more "real" - is using cheap buttons placed on some cardboard "panel" or a simple instrument mask. Why would you need to pay $$$ for what you can do easily at no cost.
But anyway, you will always remember that you are in your home, not in a plane, and it absolutely doesn't matter if you have those buttons on a molded ABS panel for $3000, on the painted "all-metal" panel, or it is just your self-made painted PVC/plexiglass panel that can have a very real appearance for $10. :)
---
"Made in ... (Your Country)"
Of course, sellers can make their products in their home country, but do not flatter yourself thinking that all the "high quality" components used in any of these devices are "made in USA" - you can be sure that most of them are purchased (or at least produced) in China. And this fact doesn't mean "low quality" now, as it maybe used to be 30 years ago.
---
Also, aggressively "advertismenting" website design and pictures quality may attract you at first glance. Don't be fooled - nowadays it's not a problem to have fancy-looking webpages, and often you don't even need to know anything about HTML and web-developing.
On the other hand, many websites with modest design, with no self-praise slogans, no pseudo-technical excessive information, may contain a good and cheap products (but not necessarily)
---
Real costs?
This is my strong opinion - for a simple "bezel" with few knobs, buttons and even an LCD screen (for Nav / Com, GPS, G1000), no matter how "authentic" it looks, it is definitely not worth paying $500 or even $200.
I'm talking about those products that do not contain any proprietary (own developed) electronic and software products inside the device that make it unique, without which it can not work. Good-looking but simple devices should not mislead people and make them think that they are buying something unique and self-sufficient.
If someone will make a genuinely "stand-alone" EHSI, GPS or G1000 module with its own controller/computer inside, which contains fully independent software to display all modes and maps without using simulator resources and will have it's own communication (USB, LAN) protocol to get information from the simulator - then this will be such a device that can cost $400-600 (if it doesn't sold once as only one unique sample).
I could make such GPS on Raspberry using SimVimX protocol and SimVimXPanel software, but it is not so essential now, when in X-Plane-11 you can simply use its good GPS/G1000 on any external screen. You don't even need to buy some "bezel", everyone can take a piece of plastic, add a few buttons and use it as a mask on that external screen.
---
You choose
Of course, I'm not going to convince home cockpit builders not to support the over-commercialization of this hobby, everyone is free to spend their money as they want. Just remember that usually sellers of expensive cockpit components don't target ordinary home cockpit builders, otherwise their products wouldn't be so expensive.
And don't forget that you are going to be building a home cockpit simulator, not a real airplane. Why buy a simple $200 stepper when you can literally spend an hour and $5 to make one yourself?
If you still think that you can't build some module yourself - keep an eye on the prices, at least you can find very good alternatives, kits, for example, a complete Boeing737 panels kit (cover plates) for 150-200 dollars and gauges with servos for 20-40 dollars.
---
We provide people an interface and are trying to give all the possible technical information that should show you that everyone can make everything themselves, not even spending too much time.

At the very least, you should know about alternatives to buying expensive hardware, and I would not say that you can compensate for these expenses by spending "extra hours" on your well-paid office (not office) work.
Maybe in near futire we will also start to produce our own devices based on our interface, but I believe, that at least we will try to keep them as cheap as possible for home users.
That's why we wanted to make the website where we could encourage people to make very cheap but very "real-looking" cockpits by hand in hours. No need to use metal, or other expensive materials for your home cockpit, the main thing you need is a panel that looks real, with right sizes and all controls.

Even "cardboard-made" panel can look very much like a real one. As example, our plastic/wood Baron 58 full-size panel took about 100 work hours to build (plus pedestal) and maybe about $50-100 for all materials (most of them was free).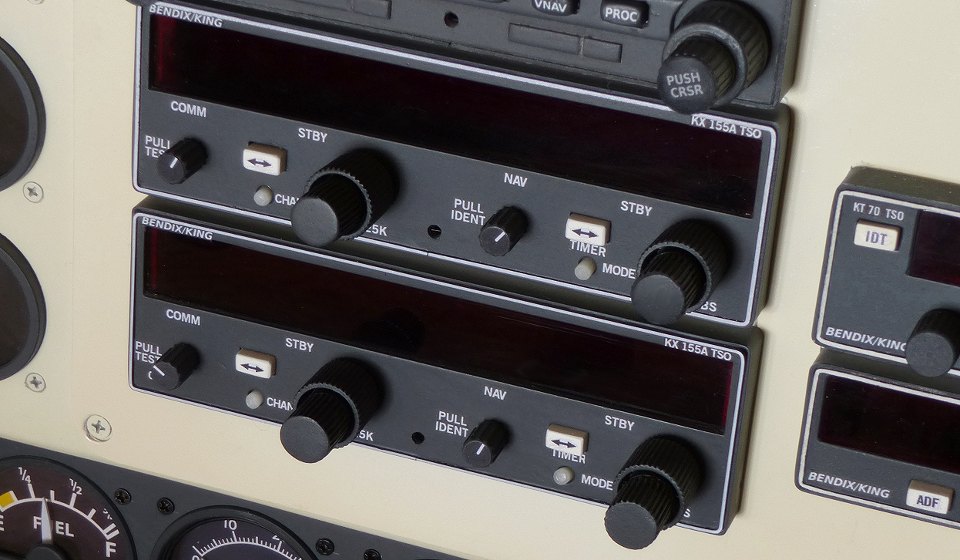 ---
Various guides and examples will be placed on this website as soon they are ready or received from other cockpit builders.
Regards,
Vlad